Give your home an upgrade! Now you can use smart control and improve your lifestyle! Choose Hubitat Elevation C-7 Zigbee & Z-Wave Hub, now available in Romania, only on www.myL2.ro!  
Hubitat is compatible with thousands of Smart Home sensors and devices, becoming the brain of your home. It connects all smart devices with each other without the need for an active internet connection.
Benefits
works offline: the Hub connects to the local network and doesn't require an internet connection. Thus, smart devices will continue to work when the internet is missing, as if nothing had happened and your data is also stored locally, securely;
online control: when connected to the internet it will behave like a real housekeeper, sending you notifications about temperature, humidity, images from surveillance cameras or alerts directly on your phone.
Tip: access the online interface through your computer and have access to many apps and settings;
countless applications built into memory: configure, monitor and control smart devices according to your needs;
home automation: create the right scenarios suited to your lifestyle! Turn on/off the lights when you come home or go to sleep;
monitor the house and receive alerts in case of burglary, water leaks, smoke detection and more, using the Hubitat Safety Monitor application;
customizable dashboard: it's much easier to configure, monitor and control smart devices! Customize the interface as you wish.
Dashboard Benefits
Smart Home control: view and control smart components connected to Hubitat! Adjust the intensity of the lights, check the doors and windows and enjoy more comfort! You have quick access to automation, security and smart components!
customization: you can adapt the control panel according to your needs and tastes. It's very simple to customize the interface, arrange everything as you please and even make changes when needed.
improved security: for door and window control you can set an access code that restricts access to them. It's also a good idea to avoid accidental presses on your phone.
images and media: integrate your favorite images, or clips with real-time traffic;
applications: through this interface you have access to applications such as Spotify and Youtube;
extra information: you can choose the dashboard to display details about the current weather or the latest news.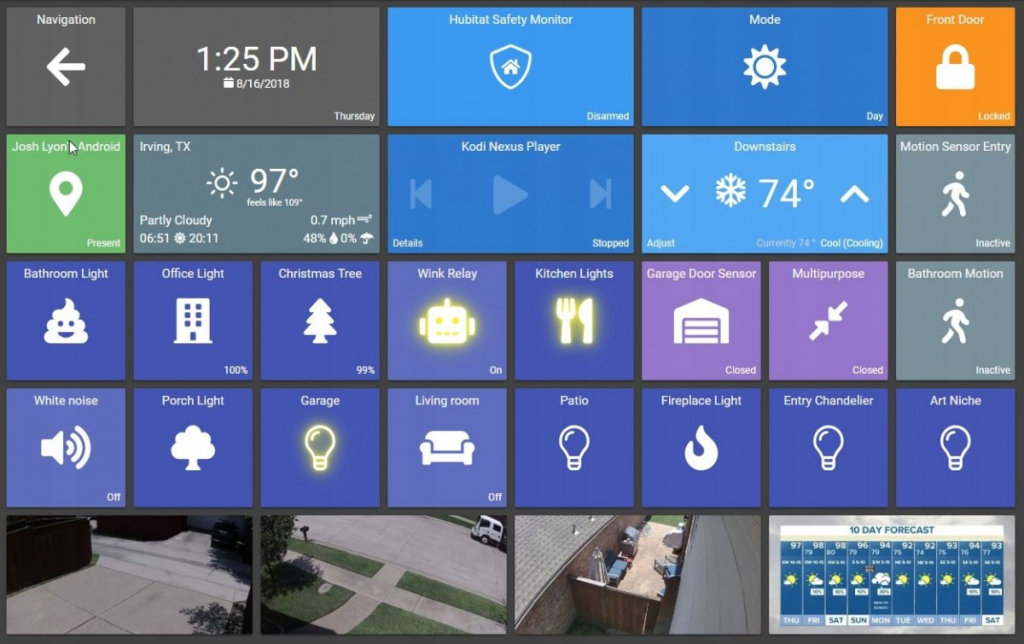 Specifications
the Hub uses the Zigbee and Z-Wave protocols, thus making it possible to connect with a multitude of smart, small devices, easy to integrate in the design of your home;
compatible with a wide range of sensors: Xiaomi, Aeotec, Dome, Fibaro, IKEA TRADFRI etc.;
compatible with a wide range of devices: Philips Hue Bridge, Amazon Alexa, Google Home, IFTTT etc.;
it connects to the local network with the help of an Ethernet cable (included in the package);
it is powered by a 5V microUSB cable (included in the package);
dimensions: 75mm (L) x 75mm (L) x 15mm (H).
Upgrade your home to a new level of confort using Hubitat Elevation C-7 Zigbee Z-Wave Hub and smart devices recommended by www.myL2.ro, perfect for your needs: lights, buttons, sensors, plugs, relays.
If you find this information useful, join the myL2 Tutorials facebook group and we'll keep you updated with new guides every week.
You're also invited to the Offers and Discounts facebook group, you will be the first to know about our promotions and offers!