Brighten your home with warm or cold dimmable light and create the desired ambiance in any room! Use a Smart Wi-Fi Bulb and give individuality to your home without needing a Hub!
Do you want to make your home smart but don't want to complicate yourself with standards like Zigbee, Z-Wave or other connections ? Do you want to have smart lighting at home without having to use a Hub ? The Shelly Duo Bulb is the right choice for you!
If you still want to use a Hub, you can. Read on!
Benefits
you don't depend on a Hub: the light bulb works via the Wi-Fi connection, so you only need a wireless network;
monitor and control through the Shelly mobile application or compatible applications: everything is now one click away! Control how intense you want the light in the room to be and what shade it should have (2700K: warm / white light; 6500K: cool / white-blueish light );
save money: use light bulbs at low intensity when you don't need a strong light! You'll feel the difference when the electric bill comes!
pleasant design: the bulb has a pleasant appearance and can easily be integrated into any home;
compatible with MQTT, Samsung SmartThings, Home Assistant, openHAB and others: integrate your devices with the rest of your home.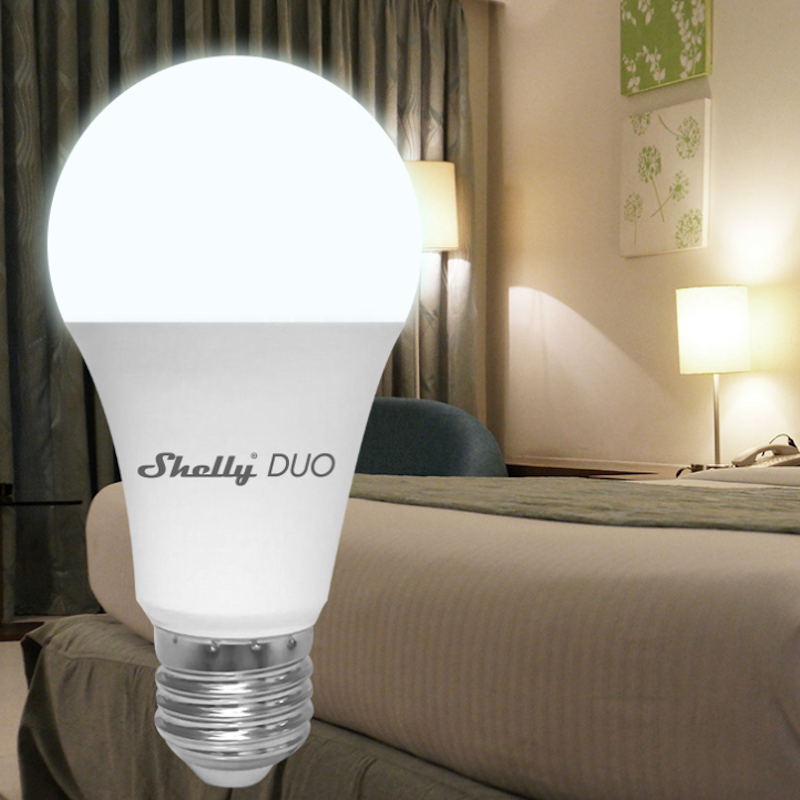 Specifications
automate control of your smart home using just your Wi-Fi network connection;
adjustment between 2700K and 6500K (2700K: warm/white light; 6500K: cool/white-blueish light).
E27 connector, fits most lamps and lighting appliances, IP20 protection;
power: 9W, intensity: 800lm, voltage: 110-230V +/-10% 50Hz AC, expected lifetime: 30,000 hours;
compatible with the following EU standards: RE Directive 2014/53/EU, LVD 2014/35/EU, EMC 2004/108/WE, RoHS2 2011/65/UE;
control via Shelly mobile app or compatible apps.
Replace old light bulbs with smart light bulbs! Use Smart Wi-Fi Bulbs in your home and you'll feel a beneficial change in your daily routine!
Do you prefer normal bulbs or smart bulbs? Leave a comment with your choice!
Don't forget to complete your house with other lights suitable for your needs or with smart sensors that simplify your life!
If you find this information useful, join the myL2 Tutorials facebook group and we'll keep you updated with new guides every week.
You're also invited to the Offers and Discounts facebook group, you will be the first to know about our promotions and offers!