Do you always want to look flawless ? Use a Portable lint remover and keep your clothes tidy! Easily get rid of lint, animal hair or fine dust on clothes and enjoy clean and beautiful clothes.
How to use
Step 1. Place your clothes on a hard surface and straighten the fabric.
Step 2. Turn on and move the rotating on the surface of the clothes, it will cut the tips of lint or completely remove large pieces of lint.
Step 3. Use the adhesive tape brush on the handle to clean small lint, dust or hair from clothes.
Step 4. Clean the device using the included brush.
To clean, rotate the black band of the rotating head and shake the device, then use the brush to fine-clean.
When the adhesive brush is saturated, remove the first adhesive sheet.
To replace the tape, remove the black cover from the handle and replace the tape.
The battery recharges in about 2 hours and is good to use the device for up to 45 minutes of cleaning.
The red LED shows that the device is charging, the green LED shows that charging is complete.
The device can be used while the battery is being charged.
Do not use it on clothes with feathers or on decorations applied to clothes.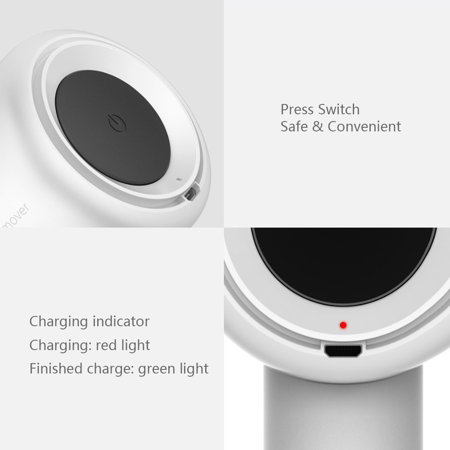 How does the portable lint remover help you ?
keeps your clothes tidy for a longer time: do you want to enjoy clothes as long as possible ? This device will help you give your clothes a new life!
you always have clean clothes: get rid of that unpleasant lint on your clothes without too much effort and keep them looking impeccable!
healthier life: dust, lint and animal hair can affect your health. Keep your clothes clean and enjoy a healthier life.
can be used wherever you are: being a portable device, the lint remover can be taken with you wherever you go; useful in the car, at work or even when visiting a relative who has pets.
Specifications
rotor: 7000 RPM;
battery: 450mAH;
charging: USB 5V DC, minimum 1A, cable included;
adhesive sheets: 8 per pack, 1 assembled pack, 1 extra pack included.
Do you need a lint remover ? What piece of clothing do you want to bring back to life ?
Make a positive change and bring more comfort in your life! Use other devices and enjoy a modern life!
You're also invited to the Offers and Discounts facebook group, you will be the first to know about our promotions and offers!